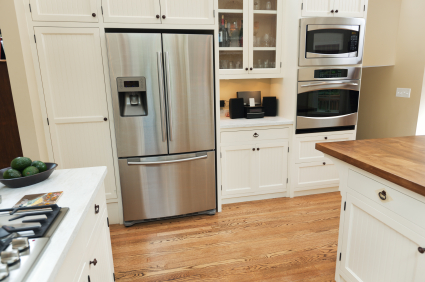 SEP 01, 2021
Recycle Your Old Refrigerator
Are you thinking of finally upgrading your refrigerator to a new high-tech one? Do you want a new refrigerator that has new smart features, a water filter system, or one that's energy-efficient? Now is the time to do so! But, before you get a new one, make sure you have a plan in place for your old one. Disposing of an old fridge isn't as easy as just putting it out for your garbage men and hoping they take it. If you're looking to dispose of an old fridge, you'll need a scrap metal company that will come and take it for you. Looking for scrap metal buyers in your area? Give RCM Recycling a call today!
Here at RCM Recycling, we buy your old scrap metal and give you cash on the spot. If you're looking to dispose of an old fridge but have no idea how to, just give us a call and we will come and get your fridge from you!
Recycling your old fridge is such a smart decision. Why you might ask? Well for one, it makes it easier to dispose of, and second, you can actually earn money from recycling it! Your fridge is filled with so much scrap metal that can be recycled.
Why should you recycle your old refrigerator?
When it comes to scrap metal recycling, your old fridge is a gold mine. It's filled with different kinds of metals, wires, parts and so much more. If you are upgrading your fridge and want a simple solution to getting rid of your old one, call RCM Recycling today!
Here's why you should recycle your old fridge rather than just throwing it out:
1. Recycling your fridge is not a DIY project
Whether you're into DIY projects or not, you should always know that recycling your fridge is not a DIY type of thing. If you didn't know, fridges that were produced in 1995 or earlier contain harsh chemicals such a chlorofluorocarbon refrigerant. If not disposed of properly, this chemical can cause serious health risks as well as contaminate the ozone layer of the environment. So if you want to avoid any danger to your health, let the team at RCM Recycling handle this job!
2. Old fridges aren't eco-friendly
The reason why scrap metal recycling is so important is that it actually helps preserve our planet. In addition to the chemicals used to fridges produced before 1995, most old fridges contain a foam that contains substances that damage our ozone and add to the issue of climate change. These days, fridges are much more well-made and don't contain these materials, but if you're looking to dispose of an old fridge, make sure to be careful.
Are you looking for scrap metal buyers or a scrap metal company to help you dispose of your old refrigerator? The team at RCM Recycling is here to help! We don't just provide your average waste disposal services – we are scrap metal buyers who want to make your life easier. So, if you're looking to dispose of an old fridge and you want to earn cash on the spot and not have to worry about transporting your old fridge, let us do it for you!